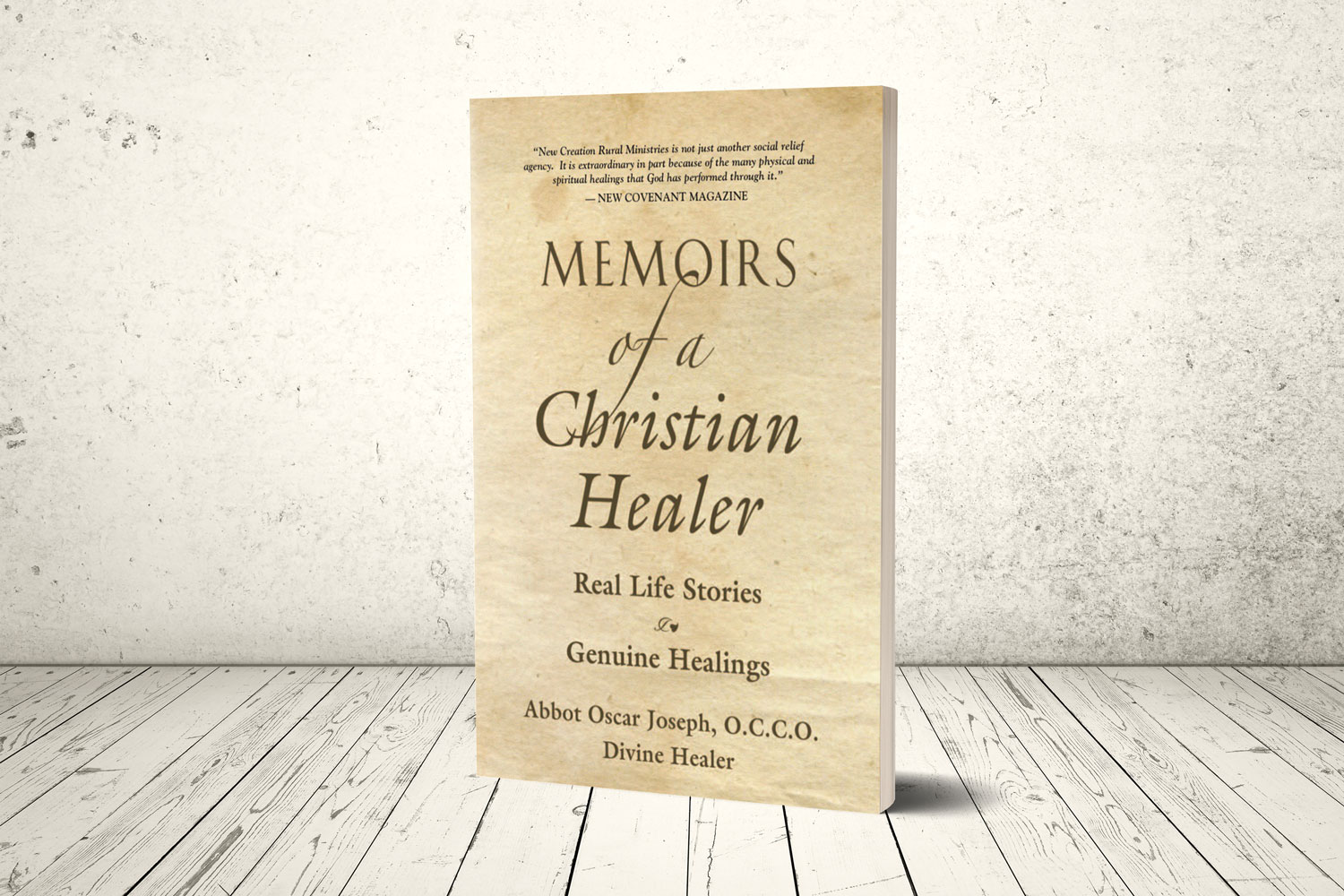 Memoirs of a Christian Healer:
Real Life Stories, Genuine Healings
by Abbot Oscar Joseph, O.C.C.O.
Memoirs of a Christian Healer is the third in a trilogy of books. Incorporated within the many stories the Abbot includes reflective lessons on the healing ministry. Abbot Oscar Joseph's usual opening line is, "Would you like to pray about that?" Then he lets God speak for himself.
As you walk through these no-frill or exaggerated stories you will experience not only ministry difficulties but the joy of victory and the sorrow of human weakness. These are honest stories of real people in real circumstances who have experienced genuine healings.
Abbot Oscar Joseph created New Creation Rural Ministries. It focused on healing the whole person, including environment, spirit, and body thus demonstrating God's love and concern especially during moments of suffering. Suffering crosses all economic boundaries.
New Creation Rural Ministries had many supporters for God's healing presence locally and throughout the East Coast of the USA. Generally, every day was filled with blessings and miracles.
As you might imagine there were some difficult obstacles. We had to be careful of lies, deceits, and saboteurs.
The cost of ministry is great. There is pain when others do not share respect for the Biblical message. The Abbot's family received many blessings and gifts, but also much personal grief.
Abbot Oscar Joseph describes God as gracious not only to himself but to the poor dear ones whom he was praying to heal and set free. Cayuga and Wayne counties were the poorest in New York State. There were few medical facilities available. Abbot's gifts saved and freed countless lives.
Memoirs of a Christian Healer begins with the author's traumatic birth which also birthed his "get out of my way" attitude. Even church conflicts over flawed good doer's limited attitudes toward the rural poor versus a true abiding Christian presence toward the rural poor could not prevail.
Abbot Oscar Joseph recounts astonishing true stories of God's grace through difficult times, miraculous stories, crazy encounters, surprising events in a jail, with police, hospital healings, and a never to forget Christmas day.
Healing on the road stories include the healing of scoliosis where the infirmed describes her back as, "no longer goes bump bump", and countless other healing stories that are captured in authentic written letters.
The Abbot shares four of his "love stories" that will you move your spirit. The healing ministry continues even in the Abbot's retirement as he continues giving seminars on how to pray and conducts healing services.
Memoirs of a Christian Healer is a warm-hearted, easy-to-read, inspirational story that you will want to share.