Greetings dear Friends:
I appreciate you visiting with me today.
My parents did a pretty good job raising my sister and me. They provided us with more than children of our time could expect. We were the first to get a TV in our neighborhood. We had nice bicycles. Our grammar school was two blocks away. Except for me being beaten up by some school mates all was good. We knew what to expect.
God used to drive me crazy. I did not know what to expect. As a child, I ritualistically prayed before bed. Sometimes we prayed as a family before dinner. Naturally, we went to church on Sunday. None of these things directed me to what to expect from my prayers.
As I think back, I did petition a lot for this childish thing and that silly thing. I remember praying for my mother, who was very sick, and got the courage to tell my father that I thought mom would die if she didn't see a doctor right away. That did inspire him to take her to the doctor. I was right. She would have died. Perhaps God through me saved Mom.
Hopefully, my article will help you with your expectations.
Blessings to you,
Abbot
What do I expect from God When I Pray?
by Abbot Oscar Joseph, OCCO     
I am usually reticent to describe my personal prayer life lest it sounds too much of me and not enough of God. Of course, if the reader knew me, they would know that for me, everything is God. My second reservation is that this is my journey, not another's. Indeed, God leads and develops each of us somewhat uniquely, so the reader does not have to try to duplicate anyone other's prayer life. However, there are many good models available, St. Benedict's, for example.
To answer directly what do I expect from God when I come to prayer, I first give a preamble
I have been fortunate enough to have been raised by a stable, loving Roman Catholic family. I attended a Roman Catholic seminary and have had a valuable formal and personal education in theology, Scripture, psychology, and extensive training in various forms of prayer. God has directed me slowly and very lovingly over the fifty-plus years of praying the Liturgy of the Hours, the Rosary, Lectio Divina, and Benedictine theology.
I have been blessed to have been immersed in a sacramental life filled with the Holy Eucharist, sacramental confession, and ordination to the Priesthood and eventually to the Episcopate.  I am in a loving marriage, a stable life, and am vowed religious.
Perhaps most importantly, I know that I have been and still am a grievous sinner who is unworthy of forgiving by a gracious God and inspired by the Holy Spirit to amend my lifetime and time again.
What I have learned is that I live in, with, and through God. That He is "Dominus Tecum", intimately close to me.
So what do I expect from God when I come to prayer?  I expect nothing. My prayer time is my gift of thanksgiving to Him as I grow daily to know my dependence on Him and His eager willingness to be with me.
My prayer continues throughout the day as I participate in His life. I find that he inspires and empowers me to participate in His Kingdom more and more perfectly.
I most experience Him when I celebrate the Holy Eucharist and hold the consecrated host in my hand.
I have mystical experiences not only during the Mass but when I pray with others for their needs. God has healed thousand through my prayers. Lately, I have experienced several occasions of purging, torn apart, wailing, and being made new. I do not fully understand it, but I know that in my "old age," He is preparing me for something inspiring.
Reflections
From The Joy of Spiritual Freedom p. 13
"We call Scripture the Word of God and yet fail to ask God, in His Word, what He has in mind for His people. The implication is that God created us, but just as quickly, He abandoned us to live in darkness and pain. Let me assure you; this is not the case. The living God can be found in His creation, His people, and His Word. God is always with us. We need to realize that we are already walking in, with and through Him."
I don't believe that many of us take Scripture seriously. If indeed it is the Word of God, then why do we feel free to interpret it any that we wish to meet our own needs or prejudices?
If we took it seriously and thought that it had something to contribute to our lives positively, wouldn't we spend more time reading it?
If we took it seriously, wouldn't we see the Church leading our lives rather than the government?
If we took it seriously, then wouldn't we be loving and caring for each other?
Reflections
From Memoirs of a Christian Healer  p. 11
"News spread of the wonderworker up north. There were numerous magazine and newspaper articles about me. A local university produced a television special. People around the world were asking for my prayers, and strangers from nowhere appeared at my door."
Before you enter into ministry, examine your motives. Is it for charity, and do you have the courage to be in ministry?
If your motives are not other-centered, you will become self-centered, and self-destruct.
Reflections
From Listen with the Ear of Your Heart p. 3
"Often, the first persons who taught you not to trust were your childhood principal caregivers. You accepted their beliefs, hopes, and fears. If your principal caregivers were not trustworthy, or if they believed that you were not trustworthy, you entered into the swamp of lack of trust. Your childhood first god was your father. If he was not trustworthy but was mean, emotionally distant, or even absent, then you start believing that God is not trustworthy, will be judgmental, and will not be there for you when you need Him."
The first most important person in your life is your biological father. Even if your bio-father was always working, never around, was never married to your mother, left or divorced your mother, or you were raised by someone else, your bio-father is still the most important first person in your life.
It would help if you recognized your bio-father's positive and negative contributions to your life. Invite God into that journey.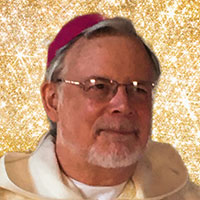 Abbot Oscar Joseph
Abbot Oscar Joseph has been a Christian Counselor and Spiritual Director to hundreds over the past thirty-five years. He has also conducted healing services throughout the East Coast of the United States. He is currently a Bishop and serves as the Abbot General of the Cistercian Order of the Holy Cross.