Greetings dear Friends:
I appreciate you visiting with me today.
It has been a glorious week for me. I have had a number of opportunities to pray with people for a variety of health problems. God has been gracious and has healed each one. I enjoy giving seminars and retreats but praying for peoples' needs, medical or otherwise, is my favorite. It is at those times that I feel closest to God and one with Him and the individual.
Often I hear the phrase, "I need more of God in me," or something like that. Actually, as baptized Christians, we already have all of God in us. What we need is a better and more consistent awareness of His presence already here.
That takes some effort to move from being earth-bound to becoming more heaven-bound. I hope that my books and these visits and maybe some seminars will help you become more aware that indeed, not only is God present to you, but He loves you.
Our visits will be bimonthly. I will write articles for your consideration and give reflections using quotes from all three of my books.
I would encourage you to purchases all three books, tell your friends about this newsletter, and give your pastor/priest a printout of my public presentations.
May our Good Lord bless you.
Abbot
Gratitude
by Abbot Oscar Joseph, OCCO
Gratitude keeps us alive and kicking. The lack of gratitude makes us self-absorbed and lifeless. I tend to think that when Eve said to Adam, "try this one," if they had stopped for a moment and had spoken words of thanks to the Lord for all He had given to them, then everything would have been different. My point…gratitude changes us. We get happier, more empowered, more creative, more emotionally secure, more of the good things.
A friend of ours visited the other day. We mostly love her. We love her most when she is not griping, victimizing herself, and thinking that life should be easy.
Scott Peck says that people who complain believe that life should be easy. I agree.
We asked her why she believes that she should not suffer. She dodged that one with one of her famous "yes, buts…"  "Well, but this," we all suffer. Her point is… that she deserves to have all good things given to her. My point is to stop complaining. Do what is good, right, and holy.
The persecuted apostles did not pray, "Poor us, Lord, please go change the hearts of our persecutors." No.  They prayed,  "And now Lord take note of their threats, and grant that Thy bond-servants may speak Thy word with all confidence, while Thou extend Thy hand to heal, and signs and wonders take place through the name of Thy holy servant Jesus. (Acts 5: 29-30)
My message today:
Gratitude will open our souls to the unity of God, self, and others. Gratitude moves us from limitations and fear to expansion and love.
Reflections
From The Joy of Spiritual Freedom p. 1
"Before we begin, let us define some of our terms and thus the direction of this book.
Joy is an interior condition that transcends the immediate and brings stability to the individual.
Joy is not influenced by our success or failures.
Joy is not the absence of troubles or difficulties.
Joy helps us to focus on our true situation and to overcome adversity.
Joy is the product of having interior peace.
Joy is the fruit of a sustained Godly relationship.
Spiritual is a focus upon God's presence.
Spiritual is giving rightful importance to emotional health.
Spiritual is giving rightful importance on the material world.
Freedom is giving of ourselves over to God, a Supreme Being.
Freedom is other-centered.
Freedom is the ability to overcome adversity.
Doubt is a product of self-focus.
Doubt is a product of defining our reality according to our definitions.
Doubt is a product of making ourselves gods.
Fear is a consequence of the failure of our self-definitions.
Fear is a consequence of our emotional and social isolation.
Fear is a consequence of our lack of realizing God's loving presence."
When I originally wrote these words for the Freedom book, I prayed first and asked for God's Joy definition. I did not look them up in a dictionary. I ask you to make a list of what you believe joy is to you. Then compare them to what I wrote. What did you discover?
Reflections
From Memoirs of a Christian Healer  p. 2
"Later, I reflected that although I had been in the healing ministry for years, I had never labeled
myself as a divine healer. I am still not comfortable with that title, but if God gave it to me, then I am glad to give Him such honor as to retain that title."
I would often ask my counseling clients, "When God looks at you, how does He see you?"
I would tell them my story of a job interview many years ago when the interviewer asked me, "Who are you?" Without hesitation, I answered, "I am a child of God, brother of Jesus, heir to the Kingdom now and forever." Even after all of these years, I still remember those Holy Spirit-inspired words. When tough times came, that Godly definition was very encouraging.
I ask you, "How does God see you?"
Reflections
From Listen with the Ear of Your Heart p. xi
"Kathleen, the co-author of my life, makes everything happen. She inspires me to experience more love than I ever thought possible."
We have a book inside of us that we began to write in utero. Its title is "How the World Should Go According to Me." Every positive and every adverse event in our lives was carefully scribed. Every day we direct our lives in ways that conform to the book. When a new event, say from a loved one, contradicts our book, we get conflicted. Now is the time to rewrite our rules to something much more positive. And so Kathleen's love inspires me to experience and give more love than I ever thought possible.
Who are those positive people in your life who have helped you to become a better person? Have you thanked them recently?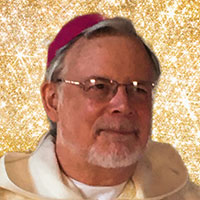 Abbot Oscar Joseph
Abbot Oscar Joseph has been a Christian Counselor and Spiritual Director to hundreds over the past thirty-five years. He has also conducted healing services throughout the East Coast of the United States. He is currently a Bishop and serves as the Abbot General of the Cistercian Order of the Holy Cross.