Greetings dear Friends:
I appreciate you visiting with me today.
A while back, Kathleen, my wife, and I drove through Cleveland, OH. For us, Cleveland is a BIG scary city. So here we were, on the expressway driving 60 miles per hour. There were three lanes of traffic, and everyone was moving faster than us. All of a sudden, the road split into three ways. Kathleen said, "turn right," Garmin said, " turn left." Oh my, what do I do? I stayed in the middle and got lost!
Life is confusing.  Which way do I turn? I have to decide quickly. So I have a choice, fight, flight, or freeze. None of them seem quite right.
Yes, the Bible gives direction, but there are many pages, and finding the correct clear answers is not always easy. 
What if there was a small book with the Biblical answers easy to find?
There is—the Holy Rule of St. Benedict, which has often been called the appendium of the Bible.
No, it is not just for monks or holy people. Please take a look; it has something for everyone. And so follows this wonderful article on the Holy Rule.
Blessings,
Abbot
The Rule of St. Benedict, Conversion, Stability, Obedience
by Abbot Oscar Joseph, OCCO
The Rule of St. Benedict has influenced the Church throughout the centuries. What is most impressive about The Holy Rule of St. Benedict is that it has been with us for 1500 years and is still relevant and contemporary.
It was adopted as a Rule of Life by numberless male and female monastics, religious orders, autonomous monasteries, religious families and congregations, lay oblates, and lay associations throughout the centuries. The Rule transcends factions, divisions, denominations, rites, politics, and administrative red tape. One can find monastics, religious and secular people living The Rule of St. Benedict alike in all Christian faith expressions.
The Rule of St. Benedict is ecumenical. It covers all the practical aspects of life and is valued as a guide to a simple life lived fully in homes, businesses, churches, and monasteries. It leads those living under the Rule towards a holy life and encountering God face-to-face.
You might think of religious vows as "dead man walking." Your life as you know it is over: no more smiles, no more friends, no more fun.
Actually, religious vows are a vehicle for more freedom. The Rule of St. Benedict is a "guide" to the kind of life that Christians want to celebrate. They want a simple life, lived well.
The last place that a Christian seeks is the whirlwind of earthbound stress, confusion, fear, and fragility.
Following a Rule of Life provides direction on healthy choices rather than making decisions forced upon us by fearful stress. The Rule of St. Benedict is a time-honored way of life that guides life's challenges.
Conversatio, or conversion of heart, is not referring to one's initial conversion into Christianity. Rather the daily desire to grow and change beyond our current earthbound paradigms. Those changes can be challenging but, having a Rule of Life and other like-minded persons helping you, the pilgrimage becomes rather liberating and exciting. Life becomes simple.
Stability is seeking God within the Cistercian community. It does not mean giving up your Church, family, employment, and other responsibilities. The Cistercian community becomes a complementary asset. We think of ourselves as extended family.
We dedicate ourselves to God the Father, God the Son, and God the Holy Spirit and in all things trusting in the Power of Grace and the love and support of the brothers and sisters in this community.
Obedience is the most liberating of all. It means trusting and gaining your confidence under the direction of a loving, compassionate leader. You will never be asked to do the impossible or anything outside of the Cistercian governing documents that include Scripture.
Now your simple life is lived well.
Reflections
From The Joy of Spiritual Freedom p. 7
"Two misconceptions about healing deal with faith and worthiness. We believe that the only faith necessary to obtain healing, any healing, is enough faith to ask."
It is true. Please, examine yourself and look for the times that you faulted yourself when things, or prayers, did not go your way.
Reflections
From Memoirs of a Christian Healer  p. 4-5
"I am also certain that I am a terrible sinner and have not earned or deserved anything. Everything I have is a gracious gift from God. I do frequently repent and amend my life through His grace. As a human being, I am not particularly special. What I do have that is special shows up when He graces me."
So many times, I used to think, "I am not powerful enough to heal this terrible cancer," or "I just am not in the mood." I would make the healing prayer about me. I soon learned it was about God, NOT me.  Now I often pray, "Lord, please accept my lack and make it a perfect prayer." The sooner that you can learn this lesson, the happier you will be.
Reflections
From Listen with the Ear of Your Heart p. 1-2
"I have counseled hundreds of people with hundreds of problems, hurts, fears, and anxieties. But all of them were essentially asking one question, "What is God's will for me?" For them, as for you, that is the question, "What is God's will for me?"
Ask that question every day in every situation. You will smile more often.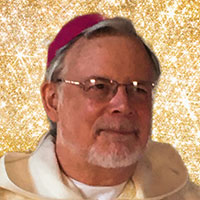 Abbot Oscar Joseph
Abbot Oscar Joseph has been a Christian Counselor and Spiritual Director to hundreds over the past thirty-five years. He has also conducted healing services throughout the East Coast of the United States. He is currently a Bishop and serves as the Abbot General of the Cistercian Order of the Holy Cross.