Greetings dear Friends:
Thank you for visiting with me today.
From every child rings to cry of "I want, give me."
You can hardly go to a grocery store and not see a child pulling at his mother to get attention to get him something.
Adults do the same. We seek others' attention to get something.
Sometimes we use the ploy of self-empowerment and use a job to get our employer's money. The employer has something, and we want it.
We want to eat so we go to the farmer. We want acceptance, so we go to another person or group.
The truth of the matter is that essentially all by ourselves, we have nothing.
If you can accept that and get out of hiding, you will be a lot happier.
Let me ask, "Where is your joy?" Real joy beyond the joy gotten from eating ice cream. Even that joy was given by the ice cream.
I am trying to illustrate that if you want real joy, peace, satisfaction, etc., ask God to give you His joy, peace, satisfaction, etc.
Alone by ourselves, we are empty.
Blessings,
Abbot
The Joy of the Lord
by Kathleen, Marion Scholar
"The Joy of the Lord is Our Strength." Over the years and during challenging times, I meditated on the phrase, "The joy of the Lord is your strength," hoping to be able to learn to manufacture this joy. Being an independent, I-can-do-it sort of person, I believed that if I could learn how, I could master the secret of being joyful, and therefore, strong. This strength would give me the emotional, psychological, and spiritual strength to endure. I worked and worked but still felt like a failure. No amount of positive self-talk worked. Nehemiah 8:10 encourages us that the joy of the Lord will strengthen us to do what is right in His eyes. I prayed and meditated on this scripture, believing that God would show me my failure and the path toward holy joy.
Then came the "ah-ha" (or should I say, "duh") moment. The joy itself belongs to the Lord! He shares it with us! He does not ask us to create this strength in ourselves, only to be open to receiving it. And the Lord's joy grows as we grow in relationship with him. Let us take for our model, our example, the Nativity of Christ. The Virgin Mary, the "new Eve," expressed her inexpressible joy when she visited her cousin, Elizabeth. Her Magnificat shows us that the Lord's joy was with her. His joy at her cooperation with the Incarnation was unmatched. She had given herself entirely, without completely knowing the future, to God. She trusted him without question. Mary would need the strength of His joy as she lived out His plan for her.
Then came the Blessed Birth. Already Mary had experienced the Lord's joy during her holy pregnancy. When the Son arrived, Mary had to submit to God differently. God trusted her to be a mother to His Son, and she submitted to the Holy Infant in her service as His mother. Her relationship with the Trinity was complete. All three Persons had an intimate relationship with the Mother of our Lord Jesus.
Incredible joy and amazing love are available to us. Positive self-talk is not required. Perfection is not required. Listen to God, trust Him, and learn what his plan is for you. Take your clues from the Virgin, whose childlike faith brought us the Christ Child.
Reflections
From The Joy of Spiritual Freedom p. 19
"Why standest thou afar off, O Lord? Why hidest thou thyself in times of trouble?" (Ps. 10:1). Many of us have spoken these words. The anguish of abandonment and our powerlessness signals the presence of doubt. Doubt is seated in self-focus and defining our reality according to our definitions. Doubt is the uncertainty of belief or lack of confidence in something. In this case, doubt is the unbelief in God and His Word. Doubt can be expressed over the existence of God (Ps. 14:1), one's personal salvation, salvation after sinning (1 John 3:9) and God's sovereignty or goodness. All doubt can be traced to the unbelief in the Word of God, which affirms beyond doubt the character of God."
Doubt is difficult to overcome. The key to overcoming is in the above. We doubt because we want things our way, not God's. We doubt because we are depressed, angry, or some other chemical imbalance. We doubt because we have not previously spent enough time in Scripture, prayer, and submitting to God previous to this bad moment.
Reflections
From Memoirs of a Divine Healer p. 16
"I learned my lesson. From then on, I just simply asked, "Would you like to pray about that?"
That request spoken humbly with love was a great door opener. I still do that today. No big story or witness was necessary. God spoke for Himself.
Reflections
From Listen with the Ear of Your Heart p. 14
"You may also complain about your church because you bring nothing to the Sunday service."
I am not referring to bringing something to entertain yourself, such as your cell phone. I am speaking your private prayer time, Scriptural study, and spiritual conversations with family and friends. If Christ is not alive for you daily, He won't be there on Sunday either.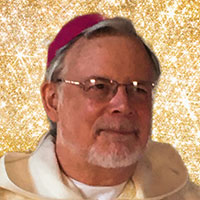 Abbot Oscar Joseph
Abbot Oscar Joseph has been a Christian Counselor and Spiritual Director to hundreds over the past thirty-five years. He has also conducted healing services throughout the East Coast of the United States. He is currently a Bishop and serves as the Abbot General of the Cistercian Order of the Holy Cross.