Greetings dear Friends:
Thank you for visiting with me today.
Generally, we mature from being self-centered to being other-centered and finally realize that we are all in this together.
The movement begins with "let's make a deal." I will give you what you want if you give me what I want. That takes the form of civil law. Civil law forces us to be other aware.
As we continue to grow and realize that we are together, we wish to give to others as they wish to give to us. Then the I have to give becomes I have joy in giving.
The giving becomes natural. We walk securely in the expectation of others' generosity. 
Marriage is a good example. Courtship is essentially a movement from "let's make a deal" to knowing and responding to the needs of the other. As the marriage develops, both the habit and disciples of generosity are developed. Eventually, the two become one and are fulfilled even in silence.
It is a natural expectation for mature relationships to have promises made and promises kept.
Blessings,
Abbot
The Fifteen Promises of Mary to Christians Who Recite the Rosary
by Kathleen, Marion Scholar
Whoever shall faithfully serve me by the recitation of the rosary shall receive signal graces.
I promise my special protection and the most extraordinary graces to all those who shall recite the rosary.
The rosary shall be a powerful armor against hell, and it will destroy vice, decrease sin, and defeat heresies.
It will cause virtue and good works to flourish; it will obtain for souls the abundant mercy of God; it will withdraw the heart of men from the love of the world and its vanities and will lift them to the desire of eternal things. Oh, that souls would sanctify themselves by this means.
The soul which recommends itself to me by the recitation of the rosary shall not perish.
Whoever shall recite the rosary devoutly, applying himself to the consideration of its sacred mysteries, shall never be conquered by misfortune. God will not chastise him in His justice, and he shall not by an untimely death; if he is just, he shall remain in the grace of God and become worthy of eternal life.
Whoever shall have a true devotion for the rosary shall not die without the sacraments of the Church.
Those who are faithful to recite the rosary shall have during their life and at their death the light of God and the plenitude of His graces; at the moment of death, they shall participate in the merits of the saints in paradise.
I shall deliver from purgatory those who have been devoted to the rosary.
The faithful children of the rosary shall merit a high degree of glory in heaven.
You shall obtain all you ask of me by the recitation of the rosary.
All those who propagate the holy rosary shall be aided by me in their necessities.
I have obtained from my Divine Son that all the advocates of the rosary shall have for intercessors the entire celestial court during their life and at the hour of death.
All who recite the rosary are my son, and brothers of my only son Jesus Christ
Devotion to my rosary is a great sign of predestination.
           (Given to St. Dominic and Blessed Alan)
Reflections
From The Joy of Spiritual Freedom p. 17
"Christians can take heart and live joyfully above their circumstances, while remaining aware of them, realizing that God often works through circumstances to reveal His will."
 This has happened to me almost daily. Something awful will happen. I do my best to take care of it and move to do the work that God has given me to do. Soon enough, I am in a better place. I can see the difficult situation more clearly and put it into perspective and perhaps learn something from it. My favorite prayer is, "God help me to see this person or situation as you do."
So living above problems does NOT mean pretending that they are not there. It means getting into Christ's perspective and continuing with the work He has given you to do.
Please do NOT think for one moment that God created or gave you the problem so you could learn something. God does not play games with His loved ones.
Bad things happen because of sin, Satan, or persecution.
Reflections
From Memoirs of a Divine Healer p. 15
"My poor dear ones, although many were un-churched, were eager for my healing prayers. They were all blessed, and most were healed. I was so excited about God's goodness…"
This is a good reminder. God loves us. There are no requirements to go before God..
Sometimes we may want to manipulate people to confess to God or accept Jesus. If they agree to prayer, aren't they actually doing that?
Reflections
From Listen with the Ear of Your Heart p. 14
"Your attitude toward the value of church is vitally important. You can experience God in a wide variety of places but none as vitally unique as participating in a faith community. If you find yourself complaining about Sunday worship, the preaching, choir, seating and the person sitting next to you, something is wrong with you. Perhaps you picked the church for the wrong reasons. Typically people choose a church because it is less than seven stoplights from their home, good programs for children, they like the pastor, music, entertainment, the social hour or their parents went there. These are all the wrong reasons."
Create a list of reasons why you picked your faith Community.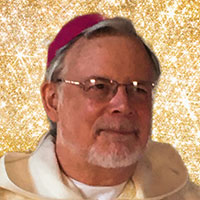 Abbot Oscar Joseph
Abbot Oscar Joseph has been a Christian Counselor and Spiritual Director to hundreds over the past thirty-five years. He has also conducted healing services throughout the East Coast of the United States. He is currently a Bishop and serves as the Abbot General of the Cistercian Order of the Holy Cross.