Greetings dear Friends:
Thank you for visiting with me today.
I still have the vivid 60-year-old memory of meeting my lifelong friend Dennis at 711 Amos Town Road.  It was a cold wintery boy scout camping trip.  Cold was the operative word.
Dennis and I became friends because, together, we figured out how to beat the cold. We tried this and that but finally settled on using newspapers as insulation. We slept warmly that night. 
Over the years, we had many victories. Our friendship is still bright with joy.
Friendship, life in community, and doing things together, whether in marriage, family, neighborhood, or nationally together, things can get accomplished.
It is true, "it is who you know, not what you know that is important."  I am not advocating for ignorance but rather pointing out the importance of knowing each other.
Recently we hosted a cookout for our neighbors. It was amazing to learn about their interests and talents. These are lovely genuine people.  Every time we wave hello, it has more depth of meaning and becomes a blessing.
Every time a new family moves in, we are quick to go over and welcome them with a gift and greeting.
Walking the neighborhood becomes a familiar delight.
Blessings,
Abbot
The Blessed Mother in Community
by Kathleen, Marion Scholar
To be in a community is to be in a relationship with others. A community may consist of family, friends, coworkers, neighbors, residents of a town, or any group to which a person belongs. In the best community, faith is shared and celebrated.
The Blessed Virgin has always been seen in a relationship to a community. When we first meet her in Scripture, Mary's community includes her Jewish family and relatives. That they are Jewish is important, in that Mary's Jewish faith and heritage is the key to all that she does. The Virgin was raised by Jewish parents in a Jewish community to believe in and honor the God of Abraham, Isaac, and Jacob. Mary was part of a community that longed for the Messiah, God's chosen race. She was likely part of the community of young Jewish women who dreamed of becoming the mother of the Messiah. When Gabriel announced God's intention to make Mary the mother of His Son, Mary made a decision that enlarged her community. This community became larger and larger and would eventually include Gentiles, people considered unclean by Jewish standards.
When Jesus gave Mary to John at the Cross, Mary's community expanded again. Mary's community and role expanded through service to God. Through her unique Divine Maternity, she became the Mother of the Church, a community to which we belong today.  Mary's Divine Maternity was and is holy. The Eastern Church refers to her as All-Holy. However, Mary's community is not made up completely of holy, sinless people. She ministers to both saints and sinners, enjoining all to become part of her community, following the example of Jesus. As the personification of the Church, Mary is the reflection of the ideal community: faithful, obedient, generous, meek, and fruitful. Her faithfulness allowed her to become the mother of God. Her obedience over time granted her a special place in God's plan of redemption, a position of unique honor. Her generous concern for others allows us access to her prayers and assistance. Her meekness allows God to work through her to accomplish His purpose. She is fruitful as she draws people to a closer relationship with her Son, increasing the church community's numbers and holiness.
We are members of Mary's community, The Cistercian Order of the Holy Cross. Mary is our mother, and we are precious to her. She cherishes us, who are the recipients of grace petitioned for us by our father, Benedict. Let us not be shy to ask for her help as we struggle toward personal and community holiness.
Reflections
From The Joy of Spiritual Freedom p. 17
"A Christian can know the will of God through circumstances: "And we know that all things work together for good to them that love God, to them who are called according to his purpose" (Rom. 8:28). This quote is frequently misunderstood. We misinterpret "all things "to mean all things including our sin literally. Following that logic, lying, cheating, stealing, and fornication and so on will all work out "for good." One's sin of drunkenness, for example, causes a family to break up. We respond incorrectly, "Oh, well, it will all work out for the best. "The error is thinking that evil produces good. This is far from the meaning of the Scripture passage."
 Here is another common-sense passage that has been terribly misinterpreted. What it is clearly saying is that all things will work out for good IF we are doing God's perfect will. If we screw up (sinning), then we are into sowing and reaping. Sow bad get bad.
Evil does not produce good.
Now, if we learn from our sinfulness, repent and change our ways, God will give us the strength to move on and to do His will. He may not fix our screw-up. It was ours, after all.
Reflections
From Memoirs of a Divine Healer p. 15
"Eva was eager to receive my prayers. We prayed and prayed. On January 6, Sunday evening, she died."
You may not have the opportunity to pray with someone for a long period of time or several times. I would encourage you, however, to try to create the opportunity. Sometimes more prayer is needed. Sometimes you need to gather more information. The more time that you spend with someone, the more that you will care about them. That will inspire your prayers.
We always pray, seeking God's perfect will. Many times our prayers are not answered. Sometimes it is not answered because it is the wrong prayer. Sometimes I just don't know. Certainly, we prayed for Eva to get healed and live. However, she died.
Please be careful not to promise a specific outcome or misuse Scripture. Remember also that you are not the healer. If a prayer is not answered as you might wish, it is not your fault and not your lack of faith or anyone else's lack of anything. God simply has something better in store.
Reflections
From Listen with the Ear of Your Heart p. 14
"Hopefully, some of your trusted people are from a Christian background and belong to a Christian, praying, Bible-believing, the faith of the Fathers type of church. You need to join such a church. Remember, Jesus, built His Church upon the apostles, knowing that you would need constant encouragement, authoritative teaching, and be surrounded by loving people who would help you grow in trust and inspire godly behavior toward yourself and others."
We need to be surrounded by people who share our values and by those whose values we want to accept.
Christianity is a community experience. I would question those who proclaim to be Christian but do not participate in a faith community.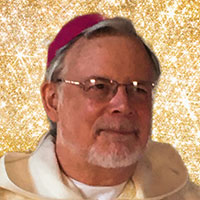 Abbot Oscar Joseph
Abbot Oscar Joseph has been a Christian Counselor and Spiritual Director to hundreds over the past thirty-five years. He has also conducted healing services throughout the East Coast of the United States. He is currently a Bishop and serves as the Abbot General of the Cistercian Order of the Holy Cross.