Greetings dear Friends:
I appreciate you visiting with me today.
The Joy of Spiritual Freedom, No More Doubt, No More Fear, was Holy Spirit inspired.  We selected Scriptural verses to free up those bound by fear and doubt concerning our Good Lord.
The content is Scripture and our experience of the working of the Holy Spirit with our counseling clients.
The writing style is quite different than Listen with the Ear of Your Heart and Memoirs of a Christian Healer. Those books are personable and more straightforward to read. The Joy of Spiritual Freedom is a product of Kathleen's, my wife, and my four doctoral theses.
The original presentation was published in book form years ago, Getting Healed, Staying Healed. It is still available on Amazon.
The Joy of Spiritual Freedom is a reworking and editing out about half of the original. We gave the material a new focus from healing to freedom and made it easier to read.
Naturally, we kept a lot of Scripture, knowing that some readers like a lot of Scripture while others might feel that it makes the reading cumbersome.
The content is compelling, and there is some new never published material included.
I did enjoy the reshaping of the original Healing book, but I felt more of a divine editor than a divine healer.
So the three books make an excellent Divine Trilogy. They address fear, doubt, and trust regarding God and give actual down-to-earth documentation of God's good grace.
WE are confident that you will enjoy all three books.
Bless you, dear friends
Abbot
Seeing as God Sees, Turn the Dial
by Abbot Oscar Joseph, OCCO
"Long before the night office began, the man of God, Benedict, was standing at his window, where he watched and prayed while the rest were still asleep. In the dead of night, he suddenly saw a flood of light shining down from above, more brilliant than the sun, and with it, every trace of darkness cleared away. He saw the whole world gathered up before his eyes in what appeared to be a single ray of light. Absorbed as he was in God, it was now easy for him to see all that lay beneath God. In the light outside that was shining before his eyes, there was a brightness that reached into his mind and lifted his spirit heavenward, showing him the insignificance of all that lies below." (From Dialogues of St. Gregory the Great)
This is one of my favorite episodes in Benedict's life. Benedict saw as God saw. In Scripture, the word "saw" often means to know, and to know means to possess, to have power over. I suggest that if we could see as God sees, we might have a greater possession of life and enjoy it more. In this article, I suggest that how we possess our suffering is how we possess our Lord.
We have some exciting juxtapositions here reminiscent of St. Paul. Should I be so brave? Medicine, psychiatry, pharmacology, even much of the church do all they can to avoid, diminish, relieve, and deny spiritual, emotional, and physical suffering.
I certainly appreciate the sciences and take my assortment of medications. I am suggesting that suffering has value and could be embraced to see as God sees and to possess the divine.
Paul speaks about this as he describes attaching his suffering to that of the cross to complete Christ's salvific action. We can do the same by offering our suffering, joining our suffering to Christ's, and by turning the dial of our human vision to see how God sees our suffering. How do we do that?
First, understand that: for God, all time is present time. What happened on Calvary some 2000 years ago is happening right now. Right now, you and I can stand at the foot of the cross with Mary, John, and the others and suffer with Him, join our suffering with His. In the Jewish tradition, memorials such as The Passover are not the calling to mind a historical event. Instead, they were reliving the event as though it were happening right now. That is turning the dial. For example, the Holy Eucharist is not a recalling, as a memorial. It is the life, death, and resurrection of Christ right now.
Next, do the things necessary to turn the dial. By that, I mean have an orderly life, be at peace with God and your neighbor, be in communion with your stability (The Order) and then do your Opus Dei, do your Lectio Divina. Know that where you lack, God will fill. Then we like Job, who, after chapters and chapters of whining, sees God and finally says, "in the light of you my questions are irrelevant, I now just want to possess You."
Reflections
From The Joy of Spiritual Freedom p. 5
"Jesus said that illness is caused by sin and Satan. We believe this to be true. The sin explained through the Adam and Eve story was a sin against the natural order. Adam and Eve were seeking to be like God. They attempted to become more than they naturally were. This created a reversal of the natural order. Humans had placed themselves before God. This reversal continues into the twentieth century, as exemplified in the emphasis on material gain and drug dependency. Man has allowed matter to rule. The correct order established by God was first God, then man, followed by nature. It appears now, through sin, to be matter, man and lastly, God."
Dear friend, please let me challenge you. How much do you let matter rule?  How much do you want to be in control? What do you think about most? Take a moment and write the answers.
Reflections
From Memoirs of a Christian Healer  p. 3
"Often I would hear God, not with actual audible words, but in my spirit, either by being moved or actual words for me to speak. God frequently gave me instructions about the type and content of my prayer and where to place my hands. I would try to clear my mind, be still, and be without a personal agenda or goal, simply to be a willing instrument."
It is vital to put yourself aside when you pray. I have heard many sad stories about "prayer abuse." It is abusive to set your agenda above God's. A good example might be a prayer group insisting on a demonic presence when there is none. The recipient would be confused, conflicted, and in worse condition than when the prayer began.
Reflections
From Listen with the Ear of Your Heart p. xiv
"I firmly believe that no matter where you are or how great or lowly your life may be that our Gracious Lord is pursuing you. He will not let you go. He wants to have an intimate relationship with you. I hope that I can teach you as I have thousands of others the truth of God's mercy and love."
Please, dear friend, know that your need to be worthy is of NO concern to God. He has made you worthy. I know that being made worthy is difficult to accept. We want to earn what we get. But think about it. How could we possibly do something/anything to get infinite grace and goodness from our Creator?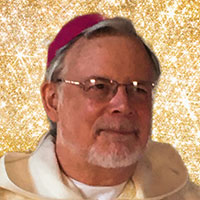 Abbot Oscar Joseph
Abbot Oscar Joseph has been a Christian Counselor and Spiritual Director to hundreds over the past thirty-five years. He has also conducted healing services throughout the East Coast of the United States. He is currently a Bishop and serves as the Abbot General of the Cistercian Order of the Holy Cross.