Greetings dear Friends:
I appreciate you visiting with me today.
I bet that you might be thinking that I am an overly serious person. I can be rather intense. I know that, but so is my sense of humor. Most of my days are spent helping seriously hurting persons.  Quiet empathy and compassion are best suitable for those circumstances.
However: this morning, I told a contractor that the exhaust fan he just installed took the wallpaper off the wall.
Now that is pretty funny, don't you think?
Jesus is often portrayed as serious, angry, and compassionate. How many times have you seen a picture of Jesus laughing?  But think about it. Jesus attracted a lot of people.  He had to have a pleasant charismatic personality.  A smile goes a long way.
I do have trouble seeing St. Paul smiling, however.
Today I present some more healing stories to put a smile on your face.
Much love,
Abbot
More Healing Stories
Dennis Brown witnessed these events.     
"It was during one of those joyous occasions when friends gathered for a celebration. There was a lot going on and electricity filled the air. We gathered together in a room for a healing session. In the first session, I participated by holding on to the recipient. What transpired next is difficult to explain in mere words.  The best description I can come up with would be that I felt weightless.  The presence of the Holy Spirit was intense and profound. 
 For the second healing session, I was only a witness.  The presence of the Holy Spirit was definitely felt, but it was a slow radiance, a glow on the face of the recipient that really comes to mind. Her face flushed ever so slightly followed by a smile that grew bigger in the next moments.
 When the hands-on portion of the healing ended you could tell that she was slightly disoriented yet the glow and smile remained for the next several minutes.  It was a remarkable experience.  I believe I will be a participant rather than a witness the next time I am offered the chance"
  __________
"When I received the news that my 21-year-old friend had been diagnosed with thyroid cancer that had also spread into several of her lymph nodes, it was a shock, to say the least. I contacted Abbot Oscar Joseph and scheduled a meeting for her. During the time of prayer, we all felt God's powerful presence that left us with the assurance that the cancer would no longer be an issue for her. She has been cancer-free for two years now."
 __________
"At a later time, I came to the Abbot in such spiritual, emotional, and mental disarray, that I was on the verge of a complete meltdown. Through conversations and prayer with him and private, intense prayer with God, I have begun to let go of years of shame and guilt that have accumulated within my soul. In doing so, I am experiencing a healing that has been long overdue. I am not afraid to look inward at myself anymore because I know that God is there with me now and He gives me the strength to face everything with my eyes wide open."
__________
 The Abbot writes: 
One of my college students was recently devastated by her newly born nephew's dramatic, life-threatening condition.  I was troubled as to what to do in the public school setting. Of course, I asked the Lord and St. Benedict what to do.  God told me to give her my St. Benedict scapular right off of my neck with the instructions to place it on the baby and that the family was to circle the baby and pray.  They did that, and the infant returned home from the hospital the next day.
 __________
We can all pray for each other. There is NO magic formula, NO incantation, and NO "sacred dance." 
I do the following: 
 Ask God if He wants me to pray.
 Ask Him how and when to pray. 
 Pray simply and expectantly.
 I do not impose any personal agenda on the prayer.
 My prayers often have long periods of silence and are very low-key. 
Reflections
From The Joy of Spiritual Freedom p. 8
"As mentioned above, another obstacle people place between themselves and healing is an awful sense of unworthiness. We are indeed dusty sinners, but once again, God took the initiative and
sent His Son to take care of that. As Jesus was raised upon the cross, we were raised from the dust. We feel that perhaps those people who refuse to appreciate this wonderful gift and cling to their unworthiness are harboring a false sense of pride."
I spend a lot of time and effort in debunking the lies regarding the lack of personal worth. The truth: me, you, and everyone are not worthy of God's love. Get over it! God has made us worthy. If you get to know Him, you will understand and appreciate His gift of love.
Reflections
From Memoirs of a Christian Healer  p. 6
"The purpose of my edited story is not to speak so much about myself but rather of God pursuing me and sustaining me. I imagine that my story is somewhat similar to yours. While some of the details I hope are not yours: the pilgrimage of falling and standing up, falling down and once again standing up is familiar to everyone."
I would like you to reflect on your story. What did you do that caused you to fall? (Don't blame others.)
What did God do to help you change your ways and stand up?
Reflections
From Listen with the Ear of Your Heart p. 2
"Perhaps you have falsely believed that by having the right job, position, material wealth, and superior intellect, you would be loved and accepted."
Please reflect on your life. How much time and effort have you put into the activities listed above?  What were you seeking?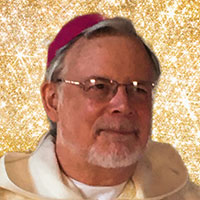 Abbot Oscar Joseph
Abbot Oscar Joseph has been a Christian Counselor and Spiritual Director to hundreds over the past thirty-five years. He has also conducted healing services throughout the East Coast of the United States. He is currently a Bishop and serves as the Abbot General of the Cistercian Order of the Holy Cross.