Greetings dear Friends:
Thank you for visiting with me today.
The world today seems to have fewer and fewer positive models. That is sad. Models are examples of how to succeed in this challenging life.
My father was my first model. I had some health problems as an infant. Consequently, I cried a lot. Dad would come home from a long hard work day and hold me until I finally fell asleep. Dad worked hard. He believed in education, religion, and commitment toward his responsibilities.
I was a terrible speller. I was dyslexic, but no one knew that at the time. One evening I asked dad how to spell Jesus. He told me to go look it up. Well, that isn't easy if you can't spell it. Eventually, I found the word Jesus on the wall calendar.
Dad bravely consented to accompany me on a Boy Scout wilderness camping trip. He did rather well. His electric razor, however, didn't work.
I can still remember his effort at trying to encourage me by saying, "I was not too ugly."
Models don't have to be perfect.
In his Holy Rule, Saint Benedict describes a model for a monk, Abbot, and Christian. He also describes the pilgrimage toward holiness.
The Holy Scripture also illustrates a variety of persons to be modeled. 
Blessings to you,
Abbot
Mary: Our Cistercian Role Model
by Kathleen, Marion Scholar
Adhering to the three fundamental principles of Cistercian life – obedience, stability, and conversion – is easier said than done. As soon as rules are implemented, a rebellion rises up within us. We insist on our way. We are discontented with our circumstances and search for "greener pastures." We are impatient with our lives and with other people. We say we want to be truly converted but insist on placing limits on the amount of conversion we will endure. We say we trust God but defy the authorities he sends us. We fight the essence of genuine love.
The vow of obedience requires that Cistercians live following the Rule of St. Benedict and fulfill all demands required by lawful superiors. Our Lady showed her obedience during her married life by trusting St. Joseph to protect and provide for her. When Joseph told her to prepare for immediate travel to Egypt, she did so. Later in life, she trusted her son, then St. John, to protect and provide for her. She lived at peace with God while her physical and spiritual needs were met.
For us also, the blessings of obedience are that of peace, protection, and provision. Stability means dedication to the Trinity and remaining with the Cistercian community. Mary's stability began with her commitment to following God. At the Incarnation, she became connected to the second person of the Trinity, the Holy Spirit, and indissolubly united with Jesus. She was at his side during all his earthly life, from the cradle to the grave. She never abandoned the call God gave her. After her son ascended, Mary became mother to St. John and maintained her support to her son's community. While her geography changed and the people whom she encountered changed, Mary remained dedicated to the role chosen for her. Consequently, she became the Mother of the Church and Queen of the Angels.
Conversion is an ongoing process by which we commit ourselves to the vocation, are open to growth and change, and earnestly follow the gospel of Jesus Christ. Like us, Mary's conversion was not that of being converted from paganism to monotheism. She did not have to be convinced or converted to give her life to God. Rather, her beliefs had to adapt to the reality of Jesus as Messiah.
Many before Mary considered what the Messiah would do for Israel. Some thought he would be a political king who would rule in the traditional way of kings. By the time of the wedding at Cana, Mary had been at Jesus" side for about 30 years. She was converted. She understood Jesus' heart and mind. She knew he would help the people at the wedding party. She also understood that she had earned the privilege of her son's consent to her request. The blessing of persevering in conversion for us is that of knowing our Lord's heart and mind and confidence that he will answer our prayers.
When we consider the human struggles that come into play as we attempt to become obedient, loving children, Our Lady's example is even more impressive. A fully human woman, she lived a life of obedience, stability, and conversion.
Reflections
From The Joy of Spiritual Freedom p. 16
"The Word of God says that we can discover the will of God through prayer, fasting, submission to the Spirit, circumstance, and counsel."
It would take another book to discuss the above. Let us remember that the will of God is found in community, not strictly by ourselves. If we are not already living a holy life, we will not be able to discover His perfect will for us.
Many people come to God when they are in trouble and expect to hear what God has to say. They screwed up their lives. The first step is to get right with God's general will; then, you will be able to hear and follow his specific will.
Be careful about the circumstance. Not every circumstance is God speaking. Would you please not test God like throwing down a fleece? That was one circumstance in the OT, not directions for us to do the same. It is arrogantly sinful to test God.
Reflections
From Memoirs of a Christian Healer  p. 12
"Puzzles drive me crazy. Every time I try to put all the pieces together, I have to start repeatedly. The journey from one piece to all of the pieces is frustrating. But finally, when the last piece is positioned, the journey rings with joy. The sense of accomplishment far outweighs the pain of the journey. Life is somewhat like a puzzle. You know there is a direction, but the journey is filled with confusion and uncertainty. False starts abound."
I think that it is rather normal not to have the full complete picture for any ministry from the very beginning. Sometimes even we get confused, distracted even go in the wrong direction. That is normal. Do not let that discourage you or your ministry.
Sometimes there will be false starts and even years of no activity as you regroup. That is okay.
Reflections
From Listen with the Ear of Your Heart p. 4
"An intimate relationship with God is your only solution. In that relationship, you will begin to see how lovingly He looks upon you, His creation. God has created you to be drawn to Him. You are able to understand that God is already with you. You can learn that you are already walking in, with, and through Him. You can feel accepted and safe. You can lead an authentically inspired life."
Perhaps the "you have been made to be drawn to God" helps you to know why you are frustrated so much. You are being frustrated because you are fighting against what is natural for you to do. You are allowing the defense mechanisms that you believe protect you from being rejected by others also distance you from the only real source of safe love. Recognizing that is the first step.
I just heard your Christian voice say, "wait, I am a Christian. I love God. He is my Savior. I have already given Him everything. What you are saying does not apply to me." Please listen. Your pilgrimage has just begun. You think that you have arrived, but there is much more to do. Keep reading thoughtfully.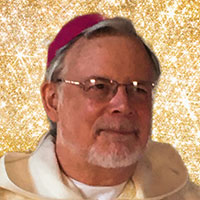 Abbot Oscar Joseph
Abbot Oscar Joseph has been a Christian Counselor and Spiritual Director to hundreds over the past thirty-five years. He has also conducted healing services throughout the East Coast of the United States. He is currently a Bishop and serves as the Abbot General of the Cistercian Order of the Holy Cross.