Greetings dear Friends:
I appreciate you visiting with me today.
Often, I am asked what had inspired the writing and content of my books.
Listen with the Ear of Your Heart, Your Pilgrimage Toward Intimacy with God was undoubtedly inspired by the Holy Spirit.
Before I wrote, I spent months in prayer, asking God for direction. He speaks loud and clear. I, in turn, take notes and discuss those notes with others as an aid to my better understanding of God's message. I genuinely want the books to be pertinent and inspirational.
The content of Listen with the Ear of Your Heart is primarily the healing teachings and encouragements that I have given to my counseling clients over the past thirty-five years. Those messages were pretty much in my DNA.
I would start writing about 4:00 AM each morning and go nonstop until noon. Yes, it was exhausting but also very inspiring.
Before writing, I would spend an hour or so in prayer. I had many mystical moments with God. Indeed, He was directing each written word.
When I finally sat before the keyboard, I prayed again. Off my fingers went. It was amazing. I wrote ideas that I never had before. Things came together effortlessly.
Although I did restudy the notes that God gave me, I didn't look at them often. Finally, when I completed the book, I restudied the notes to make sure that I covered everything. Guess what? Everything was covered, and every point was made. Thank you, Lord.
Bless you, dear friends
Abbot
Gratitude
by Abbot Oscar Joseph, OCCO
"Can you hear me now?" "Can you hear me now?" The narrator repeats the question over and over throughout the popular commercial. This is an interesting phrase that both markets his product and mirrors our personal need to be heard.
I need to be heard. You don't necessarily have to agree or support me, but please, please listen to me. When you listen to me, I am validated. I become a person of some value. To be validated, I will talk on the cell phone about trivial nonsense, chatter all day about nothing important to anyone who will listen, or even create an argument to get attention. This is a sad state of affairs, to be sure.
Let us speak about listening skills. We can recall what we know about listening skills by remembering what Mamma told us, "We have two ears and one mouth, so listen more than you speak." The 90/10 rule came from this. That is to listen 90% of the time and speak 10% of the time.  Sure would be a peaceful planet.
Active listening means full participation by the listener and response to the speaker. Active listening might include such communication efforts as mirroring. Mirroring is speaking back to what we have just heard. The opposite of active listening is passive listening. That consists of such things as thinking of your response while listening rather than really listening. You could also be viewing the sports channel, reading the paper, or almost anything other than listening to the speaker. Basically, you are not present to the speaker and show little interest in what is being said.
The next level of listening skills is "to listen with the ear of your heart." At first, that may seem an unusual statement. But slow down for a moment and listen to the words, "listen with the ear of your heart." I think you will figure it out. Listen in such a way that the speaker, or writer, moves you towards transformation.
Imagine listening to your mate complain about his day. Imagine moving to the "ear of your heart" and the effect his words of sorrow, conflict, stress, and failure have on your heart. Your response to him would be different than if you just heard the words. You would be transformed, moved, more charitable, and compassionate.
Here is some advice on how to speak to the heart. The heart needs you to speak slowly. Look at your beloved. Do not be in a rush. Save your essential messages to when you and your beloved are together. Do not discuss them over the cell phone. Touch your beloved whenever something is significant to you. Speak softly. The heart is tender. It gets frightened when you are loud, critical, and sarcastic. Be careful with your words. Say what you mean. Be clear and precise. Please, do not continually repeat yourself. The heart hears better with fewer words.
It takes practice "to listen with the ear of your heart." We need to develop a quiet spirit. The quiet spirit is developed through a desire to be present to your beloved. Spend time in quiet. Let there be no noise, no distractions. Listen to yourself. Quiet your body. Move slowly. Don't always be involved with movement. When you listen, your goal is to be in empathic union with the speaker. Look into their eyes. Give them your understanding and respond with few words, a smile, or a tear. Mostly be with them.
Reflections
From The Joy of Spiritual Freedom p. 4
"Basic survival needs and the lure of the world with its lying whisper of security entrapped H.G. and his family. Despite all his efforts to obtain happiness through materialism, he knew something was missing. After a terrible struggle, H.G. was able to plead, "Search me O God and know my heart: try me and know my thought, and see if there be any wicked way in me, and lead me in the way everlasting" (Ps. 139:23–24)."
What material things give you comfort? I like having stashes (extras) of practically everything quickly and readily available.
Reflections
From Memoirs of a Christian Healer  p. 3
"My purpose is to give glory and gratitude to God for His mercy to me and the people whom He led me to heal."
Giving glory and gratitude to God for His mercy will change your life. Your focus will change from being upon yourself to being upon God. You will become happier. How can you do that through the actions of your life, not just vocally?
Reflections
From Listen with the Ear of Your Heart p. xiii
"Late Friday afternoon, we received a call that my father was about to die."
What has been your experience of death? It is healthy to think of your end to use your life wisely and to the fullest. Your moment of passing is the defining moment of your life. I have been with several people at their deaths. You can tell the difference between a Christian and one who is not.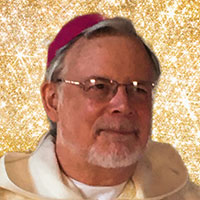 Abbot Oscar Joseph
Abbot Oscar Joseph has been a Christian Counselor and Spiritual Director to hundreds over the past thirty-five years. He has also conducted healing services throughout the East Coast of the United States. He is currently a Bishop and serves as the Abbot General of the Cistercian Order of the Holy Cross.