Greetings dear Friends:
I appreciate you visiting with me today.
Life is undoubtedly difficult. Often we can feel alone and dismayed. It seems that the world and often the church does not give us the answers.
Actually, the Christian church does have the answers. The problem is that Sunday services alone are not enough. Many folks believe that one hour with God is a sufficient weekly filling station.  Not true.
Let us remember that Sunday service is primarily for worshiping God, not personal growth. The overworked and underappreciated pastor has to create a sermon for the least educated and the least spiritually mature in the room. Effectively the others are left to get bored.
Real spiritual growth is acquired in small groups such as the Sunday school class, Bible studies, or Life Groups. If you are sincere, you will also have a Spiritual Director that you can meet with monthly.
 Most importantly is a serious time in prayer. Sadly, most people only know about petitionary prayer, and that only takes a few minutes. Then they don't know what to do. That is why I wrote Listen with the Ear of Your Heart. It will teach you how to have those wonderful prayer times. 
Naturally, if you have doubt, fear, or lack of trust toward God, and many do, that creates a genuine prayer vacuum. And that is why I wrote the other books.
It will help to remember that God created you to seek after Him, and He is also currently seeking after you.
Additionally, having a Rule of life will help you. And so follows the article for this visit.
Blessings,
Abbot
If you do not have a rule of life, life will rule you.
by Abbot Oscar Joseph, OCCO
"Sometimes it seems that not only life rules me but work, family, stress, and my carnal desires. God, prayer, and church often take a back seat," reports my client.
The news reported this morning that "last Sunday less than 30% of Americans went to church although over 60% believe in God. Additionally, Americans believe that we should set a Christian example for the rest of the world." Something is wrong with this picture. Something is undoubtedly ruling our nation.
St. Benedict wrote his Holy Rule so that, "You may return to Him from whom you had departed by the sloth of disobedience."  "Come my children listen to me; I will teach you the fear of the Lord. Run while you have the light of life, lest the darkness of death overtake you."   "And so we are going to establish a school for the service of the Lord."
I have always believed that original sin was essentially motivated by pride but energized by sloth. Both pride and sloth are certainly entertaining us today.
To those who have heard and responded to the Word of God, say, "Here I am Lord," and seek to be on the mountain with The Lord of all Life; the Holy Rule of St. Benedict teaches, as a school, how to be with Him and simultaneously live in the world. The Holy Rule is for everyone who wants to listen "with the ear of your heart." It can be applied to every walk of life. It is down-to-earth, realistic, and compassionate.
Reflections
From The Joy of Spiritual Freedom p. 7
"The need to forgive, to put others before ourselves, is the most frequent blockage to healing. Forgiving is an act of the will. I will to forgive someone and wish to be forgiven. Even when we will to forgive, sometimes the pain remains. Healing of memories may be useful. We may need to have someone help us discover where our pain really comes from."
I have some people in my life that I still have not entirely forgiven. Yes, I pray for them and ask God to bless them. If I were to see them, I might say hi and then go about my way. This reflection is inspiring me to look deeper to see what is missing.
Apparently, I have yet to think of them kindly, perhaps as God's children.
Reflections
From Memoirs of a Christian Healer  p. 4
"I pray that these memories give glory to God and that you might also be inspired and encouraged in your own life. We all carry something or many things that need healing. I would also like to encourage you to pray with others for their needs, particularly their physical needs. God hears all of our prayers whether we are particularly gifted or not."
I used to practice my healing prayers on my preadolescent children. If they had pain, large or small, we would pray. I would put warm or cold clothes on them and see if it got warmer or colder.
I do continue to ask those I pray for to tell me of their prayer experience and give me a follow-up call. Sometimes one prayer occasion is fine, and sometimes it takes many occasions and some several hours in length.
Always be certain that God does hear your prayers and be open to how He answers.
Reflections
From Listen with the Ear of Your Heart p. 1
"Our Good Lord is always with you. You do not need to have more of God because He is already there. What you need is to recognize His presence right here right now."
This one sentence filled with truth contains our personal and corporate mission. Spend a lot of time reflecting on this.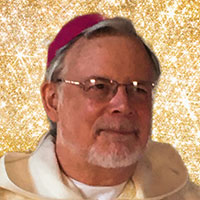 Abbot Oscar Joseph
Abbot Oscar Joseph has been a Christian Counselor and Spiritual Director to hundreds over the past thirty-five years. He has also conducted healing services throughout the East Coast of the United States. He is currently a Bishop and serves as the Abbot General of the Cistercian Order of the Holy Cross.