Greetings dear Friends:
I appreciate you visiting with me today.
On Christmas morning, mom would wake my sister and I with the ringing of a handbell. She had us gather before the manger and sing happy birthday to the infant Jesus. From there we went to the highly decorated Christmas tree to open our many presents.
Easter had its rituals of the handbell ring followed by the Easter egg hunt and the consumption of many chocolate bunnies.
These cute little rituals had very little to do with developing our relationship with Christ and a lot to do with misunderstanding the true Jesus. Our culture has many of these religious euphemisms.  One of my soapbox missions is to correct these misconceptions so we might love and trust our Good Lord.
Blessings to you,
Abbot
God's Love and Our Lack of Trust
by Abbot Oscar Joseph, OCCO     
God's names are points of reference for us to contact His love for us, Healer, Almighty, Protector, Provider, Faithful, Father, Merciful, Love, Peace, and so on.
God is always the initiator. We are always the responders.
God loves us first so we can return His love to Him.
He loves us regardless of our sinfulness, lack of faith, or trust in Him.
We live in, with, through, Him even if we are not aware of this.
We fail to respond to His love because 1) Our lives are full of distractions. 2) Everywhere we turn, we are being lied to.
Distractions: We are easily self-absorbed, full of noise. We create as many as 3000 negative thoughts per hour. Consequently, we become fearful. Fearful people do not trust.
The problem is not that we do not love God; it is that we do not trust God.
We reject God because we do not trust Him.
Benedict says that "murmuring" can destroy our communities and us.
Pop psychology gives the illusion of thought control by the lie of thinking positive. When that soon fails, we then have another negative thought that we are failures. Thinking is the illusion of action.
Scripture says Solution: 1. Repent (not only stop "murmuring" but mature to the state that you no longer care to be negative). 2. Do (action) things that are: noble, right, pure, lovely, admirable, excellent, praiseworthy, and charitable.
Lies: Lies surround us, and we believe them.
Our culture, church, government, neighbors, family all lie to us.
The purpose of the lies is to get us to doubt. When we doubt, we do not trust. Lies lead us to not trusting God.
Religious euphemisms and purposeful manipulation of Scripture have invaded the church.
Examples of lies: "God gives us no more than we can handle," "God tests us with difficult situations." "We have to forgive ourselves." The focus of worship is on us.  We have to be entertained to feel good about ourselves.
Examples of truth: Our sins produce difficult times. We need to take responsibility for the consequences of our sinfulness. God can help us during difficult times. God's forgiveness is more than sufficient. What we worship, we become. Worship a Good Holy God, and we will become good and holy. Worship ourselves, and we become fearful and unwilling to trust.
Solution: God has always known that we would be troubled by fear and lack of trust, so He has given us His Son, Jesus the Christ.
Jesus empowered the apostles to continue His mission of reconciliation.
The Holy Spirit has empowered the church to teach authoritatively on faith and morals.
We participate in God's solution to our fears and lack of trust by fully participating in His true Church, which is "One, Holy, Catholic, and Apostolic."
We participate in a sacramental life. Christ gave us the seven sacraments to show us His presence in the various stages of our lives.
Study the Holy Scriptures and the Church's teachings, believing that they can positively contribute to our lives.
Formulate and remember how our Good Lord sees you.
Conclusion: We can grow in trust. Remember that God initiates everything. We are responders.
Reflections
From The Joy of Spiritual Freedom p. 13
"If we act in accordance with the will of God, we can be guaranteed success. Although seldom do we state it directly, we are asking, "What is God's will for me?" Usually, that question is disguised by
other questions, such as, "What shall I do?" "What are my options?" "How do I save my marriage?" "Why did my child die?" "How do I handle my cancer?" If we could establish God's answer, God's will, it
would ease the pain and empower us. The knowledge and acceptance of God's will provide graces, more than sufficient, to be transformed beyond the problem at hand."
Be assured that once we have clearly understood God's perfect will for us and do it, He will give us the grace to bring His will to completion. That does not mean that the journey will be easy, but it will be fruitful.
Reflections
From Memoirs of a Christian Healer  p. 10
"I had experienced my first mystical prayer, infusion of knowledge, and reception of a wide variety of spiritual gifts. God was so gracious not only towards me but also towards the poor whom I served."
There are different levels of prayer. God will provide the mystical when we provide our willingness. Willingness means giving our time and silence.
Reflections
From Listen with the Ear of Your Heart p. 2
"God is the real solution. When you know Him well, then you will begin to measure your worth not by how others judge you but by how God judges you. When God looks upon you, He sees who you are. He also sees His Son and the Holy Spirit living within you. When God sees and judges you, He dances."
Imagine that picture. God is looking at you and knowing all of your faults, and He still dances with joy at His creation.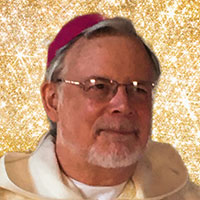 Abbot Oscar Joseph
Abbot Oscar Joseph has been a Christian Counselor and Spiritual Director to hundreds over the past thirty-five years. He has also conducted healing services throughout the East Coast of the United States. He is currently a Bishop and serves as the Abbot General of the Cistercian Order of the Holy Cross.