Greetings dear Friends:
Thank you for visiting with me today.
Sometimes people drive me crazy.
Sometimes it seems that I can never get it right. Often I question myself on whether I said or did the right thing. I ask myself why they are not calling or emailing me back. After all, I return communications within 24 hours.
I try to comfort myself that particularly younger folks don't know the proper etiquette we old-timers do. Sometimes I try to get comfort in believing that they are just busy; their misbehavior is not personal. Sometimes I dilute myself into believing that the email never really got through.
These and other efforts at calming down don't last long.
So what is my problem?
My father once said to me, "You may not love me, but you will respect me." I don't remember why he said that. I was probably a rude teenager, but that sentence stuck with me.
Maybe that is my problem. I want to be respected.  Is that a problem? I have spent a lifetime doing respectable things and holding respectable positions. Should I not be respected?
Or is the problem with others not knowing how to respect? Perhaps others do not even respect themselves, so how can they give it to me.
Or is the question even simpler? Is the world a difficult place and I should be in it but not of it?
Blessings to you,
Abbot
Getting What You Want from a Man. Man, Tells All!
by Abbot Oscar Joseph, OCCO     
Get what you want from a man. It sounds like a grocery store tabloid, "Man tells all."
Ok, since this magazine is neither a tabloid nor a cookbook, nor are men something to be roasted until well done, let us look deeper than page four.
Page 78, what do women want from a man?  I bet it is something along the lines of love, respect, someone to listen and be there during the good, the bad, and the ugly. OOPS, bad word for women. Sorry.
Page 85, what do men want from women? Nope, it's not just sex. Eighteen-year-olds just want sex. Men want love, respect, someone to listen and be there during the good, the bad, and the ugly. Sometimes men get ugly; women never do.
Page 203, yup, what I said is true.
Page 516, There are two sure-fire methods for everyone to get what they want.
First are public displays of affection. The good kind, don't go overboard. Public displays of affection like holding hands, a peck on the cheek, or a gentle touch on the face are lovely. I will never forget the rush of love and thanksgiving for that delicate, comfortable touch on the left cheek that my wife gave me at the counter at Pfaff's Glass. That made me feel important. It made me feel like I belonged to her, and she wanted the whole world to know it. Things like that make me want to give her the whole world.
Second, laugh—yes, laugh. Remember how much you laughed when you were dating? Laughing was great fun. It was more fun than kissing. It bonded you together. Laughing created the team spirit. Laughing made you feel as though you were special, loved, and immortal. Together you could conquer anything.
I love it when my wife smiles. It makes me feel important, that I belong to her, and I want to give her everything.  I will never forget the day that she smiled so brightly that it made me laugh. It was the spinach.
Reflections
From The Joy of Spiritual Freedom p. 14
"The steps of a good man are ordered by the Lord, and he delighteth in his way. Though he fall, he shall not be utterly cast down; for the Lord holdeth him in His hand. I have been young, and now I am old; yet I have not seen the righteous forsaken, nor his seed begging bread" (Ps. 37:23-25).
It is clear that every step is directed by God, but not every person's step. The keywords here are good man which is further defined as righteous."
Our pilgrimage toward intimacy with God does have ups and downs. Sometimes we fail miserably, including sin miserably. I understand this quote to say that although we screw up that not all is lost. We can repent and change our ways and continue to move forward. A man should be judged for what he is currently doing, not from past sins.
At the same time that I proclaim the above, I have to say that oftentimes, people, even Christian people including the official church, often hold pasts sins against us. And that can be very painful. When that happens to you, please remember that God does not hold repentant sin against you.
Reflections
From Memoirs of a Christian Healer  p. 11
"God had fired up my "get out of the way." Despite my emotional weakness, my world was filled with miracles, healings, and with more on the road healing services along the east coast."
Sometimes a weakness can be used as a strength. For example, my "get out of the way" could be a very rude and hurtful expression of negative emotion. But used as a positive force expressed gently or as a means of thinking beyond the obvious, it can be used for good. I remember telling the mayor of our little town to "get out of my way. God gave me a mission, and he was not going to stop me." Now that took courage. He did stop obstructing the mission after that. Thank you, Lord.
Reflections
From Listen with the Ear of Your Heart p. 4
"In summary, you want to know the important fundamental question. What is the will of God? You want to be safe, accepted, and loved by God and others. I have given a brief look at what holds you back from obtaining your needs because fundamentally, you trust things that rot."
Your pilgrimage then consists of discovering and removing the things that rot that you trust but give no support. I would encourage you to continually make a list. If something or some idea doesn't produce genuine love, joy, peace, then they will destroy you at some point.
​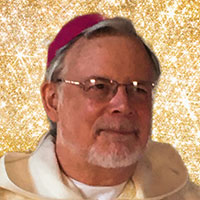 Abbot Oscar Joseph
Abbot Oscar Joseph has been a Christian Counselor and Spiritual Director to hundreds over the past thirty-five years. He has also conducted healing services throughout the East Coast of the United States. He is currently a Bishop and serves as the Abbot General of the Cistercian Order of the Holy Cross.