Greetings dear Friends:
I appreciate you visiting with me today.
Memoirs of a Christian Healer is a product of several years of working with the poor in Central New York.
The Holy Spirit inspired me to use these fond memories as an inspiration to those currently experiencing their own need for healing. The content is primarily stories of poor un-churched folks who had little intimacy with God. Yet God in His grace was very present to them and showed His love and care for their needs.
You don't have to be economically poor to feel spiritually desperate.
I had not originally intended to reveal my painful circumstances of those years, but God saw otherwise. I believe that He wants us to know that we don't have to be spiritual superstars to say prayers for ourselves and others. Indeed, I was no superstar in the mid-1980s. Perhaps not even a superstar today.
I believe that I have learned the superstar lesson. Indeed God answers prayers. I say the words. That goes for all of us. Just say the words.
I did have a lot of press at that time. I included some of the articles to support and aid the stories in the book.
I also gave some teachings to those who would want to do ministry, particularly healing ministry.
I hope that when you read this book, you will get your BIG spiritual hug.
Bless you, dear friends
Abbot
Dryness in Prayer
by Abbot Oscar Joseph, OCCO
All too often, I hear people complain about dryness in prayer. They complain from an erroneous belief that prayer was intended always to be filling and meaningful. St. John of the Cross calls this spiritual gluttony.
I remember reading a letter between St. Teresa of Avila and St. John of the Cross. She encouraged him to join her on a trip to see the latest "fad" in miracles. He responded that there were enough miracles in his garden so he would not go.
Let me assure you that prayer is primarily an act of obedience and a joyful giving of our time to the Lord. When I pray, I am giving my gift, self-oblation of time, to my Creator. He is not obliged to respond in any way.
When He does respond, it is mainly through enlightenment or a better understanding. I used to go to Him for emotional encouragement. He answered that it was my job and I should go for a run.
Frankly, I find God the most during the Eucharist. I saw the bread turn into flesh. Frequently I feel joined with the saints.
I also become one with the Lord when I pray with others. He often directs my prayers and brings healing. Br. Brendan, OCCO, reported that I had transcended on one prayerful occasion.
So dear ones, prayer can be inspiring at times. God will create those moments. Meanwhile, we do The Work of God.
Reflections
From The Joy of Spiritual Freedom p. 4-5
"The removal of blocks to love is a form of death and resurrection/transformation. We speak of healing as removing any blocks within us that prevent God's love from working in and through us, from giving and receiving love. Love, divine, and human is the agent of healing. The more we can give and receive love, the more we will be able to enjoy spiritual freedom."
Healing is a whole person event. Not an easy one but the road to transformation is worth the journey.
I ask you to reflect on your resistance to change. What are you holding onto that appears to be giving you life when in fact it is causing death?
Reflections
From Memoirs of a Christian Healer  p. 3
"Having said, "Led me to heal," I never mean that I am the healer. I say the prayers, and God answers, often with healing but always with His blessings. I am, however, aware that I am merely a freewill instrument who cooperates, often sacrificially, with God's will. So please remember that when I say "I    healed," it should be clear that it is God who heals, and I am only an instrument."
If you are going into the healing ministry or any ministry, please understand that God, not you is both the initiator and completer. You are simply the administrator, the tool.
Not only will this help you to keep your ego in check, but your fear of failure when seemingly your prayers are not working. You can suffer inappropriate guilt when your prayers and hard work do not produce good fruit. Remember that God's ways are not our ways.
Reflections
From Listen with the Ear of Your Heart p. xiii
"At this writing, I am seventy-three and wish to pass my heritage on to you, the reader."
I would like you to reflect on what heritage that you are passing along. Perhaps a good way to itemize your legacy is to write your obituary. There is time to be more, accomplish more, to live more for God than you.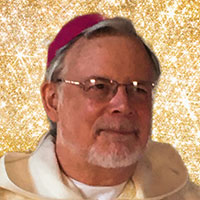 Abbot Oscar Joseph
Abbot Oscar Joseph has been a Christian Counselor and Spiritual Director to hundreds over the past thirty-five years. He has also conducted healing services throughout the East Coast of the United States. He is currently a Bishop and serves as the Abbot General of the Cistercian Order of the Holy Cross.