Greetings dear Friends:
Thank you for visiting with me today.
Once upon a time, I pastured an Anglican parish very long ago in a far and distant place. It was the best of times and the worst of times.
I most enjoyed celebrating a public Mass, distributing the Body and Blood of Christ, and preaching the Word.
On Sunday, visitors arrived at the service relatively late. I was beginning my homily on the importance of Mary, the Mother of God, in the church. As soon as they heard those words, they walked out.
It seems that too many people avoid giving Mary the honor that belongs to her, even though honoring her is clearly illustrated in the New Testament.
Notice I said honor, not worship.
Even with a little effort, we can discover that Mary was both unique and ordinary. Unique because God the Father chose her to be the Mother of His Son. Ordinary because she was a Jewish woman of her time.
She is a wonderful example of a holy woman dedicated to her wife's position to Joseph, mother of Jesus, and faithfulness to her community.
If more modeled after her, there would be fewer abortions, more faithful wives, and more devout female Christians.
Would you please read her story in the New Testament?
Blessings,
Abbot
Devotion to the Mother of God
by Kathleen, Marion Scholar
The devotion to the Mother of God has developed over centuries and continues to evolve. The Blessed Virgin prophesied this devotion in her interchange with Elizabeth when she said, "all generations will call me blessed." (Lk 1:48) Profound dedication to Mary is shown in prayers, hymns, and various artistic depictions, books, catalogs, and libraries.
A search of Amazon.com yields 34,641 references to "Virgin Mary" in traditional and untraditional categories. Her image can be found on tee shirts, nightlights, key chains, candles, and jewelry. The University of Dayton in Dayton, Ohio, has a Vatican-approved Marian library. The library's website boasts of containing more than 100,000 books and pamphlets in 50 languages, from the 15th century to the present day. In addition to more than 63,000 clippings of articles, this library also collects statues and rosaries.
Religious bookstores, Catholic and Orthodox, sell books, movies, and devotional items honoring Mary's unique place in salvation history. The Muslim Quran devotes an entire chapter to the Mother of Jesus. Marian shrines can be found around the world and in many cultures.
The teachings of Vatican II delineate between "dulia," honor and homage owed to the saints, and "latria," the adoration and worship that can be given only to the Triune God. The special degree of devotion to Mary has traditionally been called hyperdulia. The Fathers at Vatican II urged theologians to avoid both false exaggeration and minimalism of the special dignity of the Mother of God.
Following the study of Sacred Scripture, the Fathers, the doctors and liturgy of the Church, and under the guidance of the Church's magisterium, let them rightly illustrate the duties and privileges of the Blessed Virgin, which always refer to Christ, the source of all truth, sanctity, and devotion. (Lumen Gentium, 67)
Catholic doctrine states that the authentic veneration of Mary moves one "to a filial love towards our Mother and to the imitation of her virtues." (Lumen Gentium, 67). When Marian devotion is truly Christocentric, it helps us to become more virtuous members of the Church, to focus more on Christ, and strive for a closer union with the Father in the Holy Spirit.
Clearly, man's fascination with Mary has encompassed "all generations" and has not diminished over time.
Reflections
From The Joy of Spiritual Freedom p. 16
"Ye ask amiss" is a central issue. The pain of our sin and conflict of spirit not only drives us as the waves but makes us doubt and fear. Our central focus is survival through a crisis. We consume the will of God for our lust to serve our ends. The Word guarantees that we will not receive from God; consequently, we feel abandoned by the very God from whom we seek relief."
What a great book. It is so full of common sense. Yes, when we are terribly upset and filled with emotions, we cannot hear clearly. Our focus is on fight or flight. We have all had this experience. When we are in that state, all we want is our will be done. Here is a good time to be seeking outside help and not try to ride out difficulties by ourselves.
Reflections
From Memoirs of a Divine Healer p. 13
"Mostly everyone who dares to say that God speaks to them is labeled as crazy at one time or another."
That certainly has happened to me. I suspect that people will call you crazy for wanting to do godly things. The local parish priest thought that I was crazy to want to be a monk. Another parish priest was supportive but not very publically. Don't be surprised if the church does not support your mission. You don't really need them. But do not get the church angry either. It is better to have their support.
Reflections
From Listen with the Ear of Your Heart p. 6
"That is going to be the first step in your pilgrimage. Get over yourself and just listen."
I have spoken to a number of people who have read this book. They liked it. They couldn't put it down. That is nice, but you can't just read this book. You have to talk to it, argue with it and perhaps even throw it against the wall. Most people don't want to get over themselves. They prefer to stick with their "stuff" even if they know it is wrong. Most people do not truly listen. So dear ready, please slow down. This pilgrimage is well worth the effort.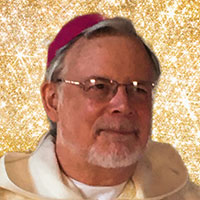 Abbot Oscar Joseph
Abbot Oscar Joseph has been a Christian Counselor and Spiritual Director to hundreds over the past thirty-five years. He has also conducted healing services throughout the East Coast of the United States. He is currently a Bishop and serves as the Abbot General of the Cistercian Order of the Holy Cross.