Greetings dear Friends:
Thank you for visiting with me today.
The Cistercian Order of the Holy Cross has monks and oblates all over the world. I try to communicate with them as frequently as possible. My favorite way is through video meetings. The meetings are full of news reporting, laughter, and spiritual direction.
The other day a monk and I spoke about the nature of trust and how difficult it is to trust others and consequently trust God.
If we were raised by overly demanding, critical, not trustworthy parents, we are consequently taught not to trust not only others but ourselves and untimely God. 
While that is true, the Bible is pretty clear on not trusting people, at least not trusting them without good reason, proof, and long-term experience. And even then, always be cautious.
It seems to me that unless we first trust God, then we cannot trust people. It is confusing, to be sure. One certainly affects the other.
A component of trust is transparency. Being transparent with God is essential. Yes, He knows us, no secrets with God, but we need to be entirely open to Him. As we become more honestly open, we will learn about God and consequently grow in trust.
Blessings,
Abbot
Consent and Consecration
by Kathleen, Marion Scholar
The life of the Blessed Virgin Mary has both individual and universal meanings. To us as individuals, she models a life of holiness and dedication to God. A study of her life teaches us how to stay close to Jesus and please God. On a universal level, she is the personification of the church: the bride without spot, wrinkle, or blemish, having no individual sin. Accomplishing this role in God's plan of salvation was a process. She was born to attain these roles but had to live out her life one day at a time to fulfill His purpose.
As a young girl, Mary gave her consent to God through the angel who announced that she was to have a son. In her consent, Mary agreed to permit the Holy Spirit complete access to her: body, mind, and soul. In consenting to God's request, Mary gave Him permission to change her life completely. Her consent was freely given and was the first step toward accomplishing the plan by which God brought Redemption to mankind. At the time of the Annunciation, Mary was able to hear and know the voice of God because she had been taught to trust and obey Him. As she grew up, she had listened to her parents and others in her faith community recount examples of blessings that came to those who obeyed God.
Those who are on a serious spiritual journey must also, like Mary, give God permission to change their lives. They will then learn of the blessings of God and desire a complete dedication to Him and His plans. Like our Blessed Mother, they will be tempted, taunted, and tested. While overcoming difficulties, they will become part of the few who are chosen by Him for an intimate, enduring relationship.  They will be consecrated to sacred service and set apart for God.
Mary worked, prayed, contemplated the mysteries of God, and was converted. She changed from being a simple Jewish girl who loved God to becoming the Holy Mother of the Church. She listened closely to her Son, contemplated His words and works, prayed singly and with others, and endured intense personal pain. Those who choose to obey God and be changed can follow her example.  Enduring pain without complaint or bitterness may be one of the most challenging aspects of the spiritual journey. However, with Mary to help, The obedient will persevere.
Reflections
From The Joy of Spiritual Freedom p. 17
"The believer can depend on the Spirit for convicting him of sins (Ps.19:12–14; 139:29) and can depend on the Spirit to empower him to serve Christ (Acts 1:8; Gal. 5:16; Eph. 3:16)."
 The other day I heard a person's confession. I asked them what their sins were. They responded that they have no sins. Well, that is impossible. Yes, we can lead wholesome holy lives, but every moment is still filled with sin. Such things as an example are fear, anxiety, doubt, anger, need to forgive others. The list goes on.  I am not suggesting that this person was Holy Spirit dumb but that they needed some help discovering their sins.
The use of a daily examination of conscience is very helpful. Usually, this is a prayer aiding in discovery or an actual list of sins. I have both in my book Listen with the Ear of Your Heart.
Reflections
From Memoirs of a Divine Healer p. 15
"God was so gracious not only to me but to the poor dear ones that I was praying to heal and set free. Cayuga* and Wayne* counties were the poorest in the state. There were few medical facilities available and even fewer for the poor. My gifts saved and freed countless lives."
I may be prejudiced on this, but I think that most ministries should be focused on the poor. God holds the poor as special. The poor realize that they need God. The rich are not as needy for God.
You will grow tremendously when you work with those who are in need.
Reflections
From Listen with the Ear of Your Heart p. 13
"An important part of your pilgrimage is to be aware of who you are at this very moment. The first step toward growing in worthiness and, consequently, trust is to associate with people you respect, not vampires. Vampires are those who want to get everything they can from you."
Sometimes for us to genuinely change, we have to change our environment and/or the people with whom we associate. If our friends love, respect, and appreciate us, it will make a big difference in who we become. Do your friends do what they promise, or are they full of excuses?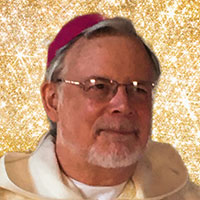 Abbot Oscar Joseph
Abbot Oscar Joseph has been a Christian Counselor and Spiritual Director to hundreds over the past thirty-five years. He has also conducted healing services throughout the East Coast of the United States. He is currently a Bishop and serves as the Abbot General of the Cistercian Order of the Holy Cross.