Greetings dear Friends:
Thank you for visiting with me today.
Let me tell you a story about making resolutions.
I have many childhood memories of wanting to be wanted. The most painful was during gym class when we lined up to be chosen for a team. No one wanted to be the last one selected. Usually, the best and most reliable persons were chosen first. They were the prize. They would help to win the game. The remainder was essentially the leftovers, the unreliable losers. We would even yell out, "pick me, pick me."
Over the years, with the grace of God and hard work, I achieved the status of the best and reliable.  Consequently, I have been chosen for many positions, including ordination and marriage.
When I reflect on my relationship with God, it seems similar. Scripture says that many are called, but few are chosen. I wonder what the difference is between called and chosen and what role do I have in either?  Yes, I realize that salvation is by grace, not works, but at the same time, works reflect and keep alive my salvation.
Perhaps this is another step far beyond salvation. By my faithfulness, I become more reliable and thus more valuable in advancing the Kingdom of God.
Blessings,
Abbot
Called or Chosen
by Kathleen, Marion Scholar
Several years ago, I reviewed Scripture searching out verses with "called" or "chosen." The verse, "many are called; few are chosen," refused to leave my thoughts. Along with the mental nagging of this verse was the voice of God saying to me that the Hebrews are His chosen people because they chose to be chosen. Hmm, what could this all mean?
Taking a large concordance in hand, I wrote down, then read, passages of Scripture having to do with calling and choosing, hoping to understand better the difference between being called by God or being chosen by God. Scripture tells us that God has placed knowledge of Him in every person. After the flood, God told Noah that the rainbow is a sign of a covenant, created by God, between Him and all living creatures. Thus, all people of all ages have been "called" by God and have the ability to enter into a relationship with Him.
Through my study, I came to understand that we can move from the "called" state to the "chosen" state if we do as the Hebrew people have done. This requires agreement on our part to God's discipline. A review of Hebrew history shows us this is not always easy or pleasant. It can mean enduring physical hardship, doubt, slander by unbelievers, and other difficulties, all while maintaining fidelity to holiness. No wonder it is only a few who reach this category of relationship with God.
There are benefits to enduring God's refining fire. His promise to answer prayers increases as we become more holy, more trustworthy, and more obedient. You will recall Mary's request to Jesus at Cana. Though Jesus said it was not yet his time, Mary's request had to be honored. She had served at his side for 30 years and had earned the privilege of having her prayers answered. Water was turned into wine. But that is not the end of the story.
There is another category of believers called "faithful." The faithful have endured through long periods of time and have been found worthy of Him. Revelation 17:14 says Jesus will take with Him His "called, chosen and faithful followers" when he overcomes "the beast."
Those of you who have answered the call of our Lord to strive and persevere toward greater holiness should anticipate that difficulties will be put upon you. Temptations will need to be faced and overcome. The world will not like nor understand you. I pray you will continue your journey despite these things because the world that does not understand you needs you. Amen.
Reflections
From The Joy of Spiritual Freedom p. 17
"Isaiah's words "here I am; send me" speak of the personal submission necessary to know the will of God. This kind of submission is not possible for the unsaved. Rather it is our response to a call previously given by the Father. As Isaiah responded to his call when a repenting sinner receives Christ by faith, the Holy Spirit immediately does five things: regenerates the believer; that is, gives a new nature (John 3:5–6), baptizes the believer into the Body of Christ (1 Cor.12:13), dwells in the believer (Rom. 8:9, 1 Cor. 6:19), seals the believer (Eph. 1:13, 4:30) and fills the believer (Acts 2:4, 4:8, 7:55, 13:52)."
 The above quote needs to be reflected on very carefully. It is filled with wonderful things. Please remember that as a believer, you are very, very different from nonbelievers. You need to appreciate and honor that.  Because you are so very different, then you are required to behave differently. Certainly, you would not go to a nonbeliever for guidance or council.
It is the empowerment of the Holy Spirit alive within us that we can say, "Here I am Lord, do with me as you will."
Reflections
From Memoirs of a Divine Healer p. 15
"I learned that being childlike and just plain trusting God was the real issue, not the crazies name it; claim it books with wild emotions. How wonderful."
There are two good points here. The first is being careful about the correct development of your spirituality. Second, being childlike is not the same as being ignorant. You don't have to be super educated. Or super anything, for that matter.
Reflections
From Listen with the Ear of Your Heart p. 11
"Trying to describe God and the experiences of Him is nearly impossible. The best anyone can do is to speak in metaphors. Metaphors are nice, but they are not always understandable. You want a God whom you can understand. Consequently, you make God into your own image and likeness. That image and likeness are broken and frail."
Often we give God human characteristics. The Old Testament is full of examples of God behaving and feeling like a human being. He is often described as angry, punishing, and short-tempered, and so on. God is none of these things. If you read the stories, the bad things that happen to the characters is a result of their bad sowing, such as being disobedient, not God's punishment.
For many of us, we will need to be retrained to see God as the merciful, loving Father that He truly is.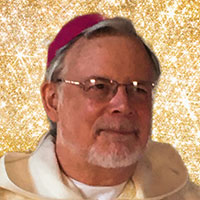 Abbot Oscar Joseph
Abbot Oscar Joseph has been a Christian Counselor and Spiritual Director to hundreds over the past thirty-five years. He has also conducted healing services throughout the East Coast of the United States. He is currently a Bishop and serves as the Abbot General of the Cistercian Order of the Holy Cross.