Greetings dear Friends:
I appreciate you visiting with me today.
One of my favorite things to do is to pray with people.  Many times the problem is a medical condition.
Years ago, I spoke to a group of medical students at Bowman Gray School of Medicine in Winston Salem, N.C., about spiritual healing. I did what you might expect, giving proof of God's healing presence. They did not expect that they would be encouraged to pray with their patients right there in their offices. Now that was a new idea.
I have had the honor of visiting hospitals and praying for patients. The staff reported that more patients survived, and many others recovered more quickly and with fewer complications. I have heard other praying ministers report the same. Yes, God is real, even in hospitals.
I remember one Sunday morning at my parish in Winston Salem, a hospital patient, still in their hospital gown, came into our service seeking her healing.
You don't need a divine healer to say healing prayers. Do it yourself for yourself or others. You will be amazed. Remember, if we don't ask, we don't get.
Below is a beautiful story about one of our monks, Br. Columcille, OCCO.
Enjoy.
Abbot
A healing story
by C.R.
"I was recently hospitalized in a life-threatening condition, where the doctors had advised my family and friends that with the removal of a ventilator tube, I had about 20 minutes to live. Prior to my insisting that they take the tube out (during moments of awareness before they sent me back into a coma), I had asked to see Father/Brother Lee (Columcille) as we call him.    
Lee (Br. Columcille) is a friend of my daughter, and prior to this crisis, I had little or no contact with him on a personal level. However, it was Lee that I asked for by simply printing his name in my sister's hand. Even semi-conscious, I know a good thing when I see it!
Well, my daughter drove the sixty miles back to her house and picked up Brother Lee (Columcille)  and brought him to the hospital. It is hard for me to remember much of what happened, but I knew he was there and could hear his voice.   
 I'm sure that you are aware that Lee (Columcille) has serious health problems of his own and what he did for me during the next twelve hours was nothing short of a miracle in itself. Lee (Columcille) stayed with me, standing beside me, holding my hand almost the entire time. I remember him praying for me, talking to me, and letting me know that I was not alone, either physically or spiritually.
It was a very powerful experience; even though I can't remember most of it, my friends still talk about the intense electricity they felt in the room during this time. I know that Father Lee (Columcille) brought the Holy Spirit with every angel to my room to help me through whatever was to come. Thank God, I was healed and will live to bear witness to the power of prayer and the love and forgiveness of God.   
 I just wanted you to know what a fine man and servant of our Lord that you have, and I hope that he is supported by your love and prayers. Several months later, Br. Columcille's mother almost died. Many people prayed for her with great success. I spoke with her on the phone the other day, and she was doing well and had no brain damage what-so-ever. God is Good."
Reflections
From The Joy of Spiritual Freedom p. 6
"We are all in need of healing. We all have blocked God's love from working in and through us. We all have blocks to giving and receiving love. It also seems that as soon as one block is healed, a deeper one is revealed. This is called spiritual maturation, which continues over a lifetime. Even the most religious person can have blocks to physical or inner healing. These blocks can come in the form of being self-absorbed, self-critical, defining our reality according to our definitions, and social and emotional isolation."
Whether you are spiritually immature or mature, we all live in massive denial. We would rather avoid any pain than face the truth of who we are. Dear friend, what are you denying?
Reflections
From Memoirs of a Christian Healer  p. 4
"Frequently, I would ask the individual what they would like me to pray for, and I would repeat it prayerfully. I have learned that having the individual pray is often more moving than my prayers. Mostly I would try to get out of the way and pray quietly. It was common for me to pray in tongues quietly. I always remembered that prayer moments are about the individual encountering a loving God and not about me."
It is easy to let our ego get in the way when we pray for/with others. Before I prayed with a poor soul in my early days, I would try to educate them on what they would experience. Eventually, I learned that I was talking to myself. What they wanted was just the prayer and the hoped-for results.
Reflections
From Listen with the Ear of Your Heart p. 1
"He has, over the years, been with me at my most troubled times and my most victorious times. During the troubled times, I had abandoned Him. During the most victorious times, I had abandoned myself."
I remember the moment that I originally wrote the above. I also remembered the truth of me abandoning God, but He always with me. The thoughts filled me with remorse. Dear friend, please think of your moments of abandoning your creator and give Him thanks for never leaving your side.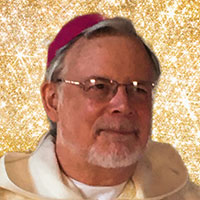 Abbot Oscar Joseph
Abbot Oscar Joseph has been a Christian Counselor and Spiritual Director to hundreds over the past thirty-five years. He has also conducted healing services throughout the East Coast of the United States. He is currently a Bishop and serves as the Abbot General of the Cistercian Order of the Holy Cross.